Oh, the joy of receiving a paycheck without income tax taken out. Though it may sound like a dream to some, it is the reality for those in 9 out of the 50 states. It's not all cut and dry, though. Though these nine U.S. states don't take state income tax out of personal income, their actual tax burden can be more complex.
The Nine States With No Income Tax:
Alaska
Florida
Nevada
New Hampshire
South Dakota
Tennessee
Texas
Washington
Wyoming
And there you have it, the nine states whose residents are free of income tax. But, before we get carried away, what's the catch?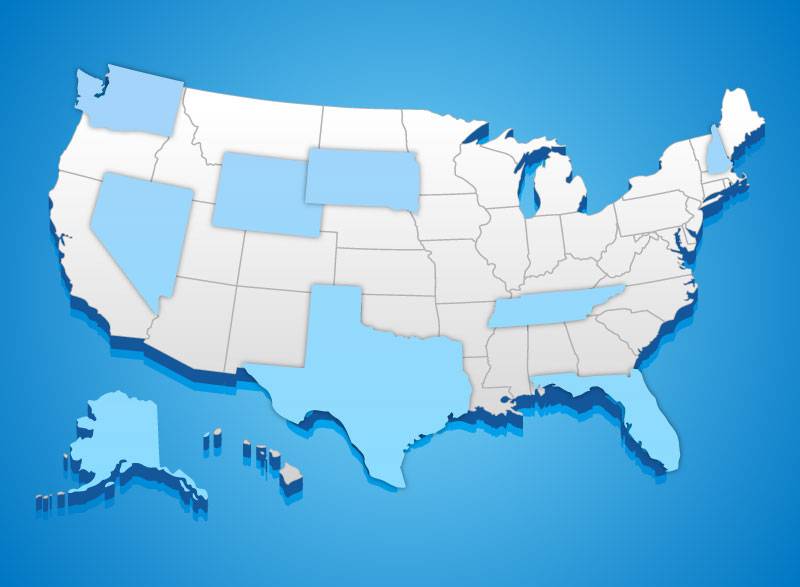 If you're feeling compelled to pack up and move to one of these states for a tax break, you may want to pump the brakes. If you're not paying income taxes, the state's often making up for that lost tax revenue somewhere else. There are other factors to assess when it comes to living in an income tax free state including sales tax, property tax, excise tax, and city or county taxes, as well as cost of living and environmental factors. Here we'll offer some key takeaways of the economic pros and cons of each of these 9 income-tax free states.
A state's total tax burden is the total amount of taxes that an individual or entity is required to pay to the government, usually expressed as a percentage of their income or assets. Alaska's tax burden is 4.6%, which is the lowest of all 50 states.
In addition to no income tax, Alaska has no sales tax. Local municipalities can impose their own sales taxes, averaging an estimated local sales tax around 2.5% that varies upon location. The property tax in Alaska is 0.98%, ranking them 30th in the U.S.
Though these taxes are considered low compared to other states, Alaska has a cost of living index of 127.1 according to the World Population Review Cost of Living Index by State 2023. That gives Alaska the 6th highest cost of living of any state.  The state ranks #45 in the "Best States Rankings" by the U.S. News & World Report.
The sunshine state is a popular choice for those headed into retirement with a tax burden of 9.1%, ranked #11 in the U.S. Though the property taxes are in the mid-range at 0.86%, the rates can vary by county.
Florida closes the top 10 in the Best States Rankings, which isn't surprising considering its warm climate and miles of coastline. On the contrary, the weather can also become an expense to residents when dealing with flooding and hurricane season. Home insurance can be expensive, with an average cost of $4,218, beating the national average by over $1,000.
The home of Sin City sits at a tax burden of 9.6%. Though higher on the list compared to the other nine states, it still ranks #17 when compared to all 50. With its cost of living index at a 105.3, Nevada's a bit on the expensive side for cost of living and housing, even though it has a lower property tax of .56%.
U.S. News & World Report assigned Nevada #34 in the Best States Rankings.
Known for its small-town charm, natural landscapes, and being the first state to hold a presidential primary election every four years, New Hampshire also has a tax burden of 9.6%. This state may be small, but it may be one of the top states to live of the income-taxless nine.
With a Best States Ranking of #4, New Hampshire is ranked #2 in public safety by U.S. News & World Report behind Maine. In 2022, its low crime rate dropped from 1.6 incidents per 1,000 people to 1.5.
When it comes to property tax, taxrates.org puts the state at an average of 1.86% per year for 2023. This is one of the higher property taxes among all the states.
If you happen to be a Mount Rushmore or Badlands fanatic, South Dakota may be your next destination. The state has a tax burden of 8.4% and low sales tax of 4.5%. This state does stay below average in majority of cost rankings among the other states.
At #15 on the Best States Rankings, South Dakota residents spend 17.4% lower than the national average on household expenses. The state also has low taxes on gasoline and tobacco, with a tax rate of 30 cents per gallon on gasoline and $1.53 per pack on cigarettes.
If you're looking to spend less, South Dakota is a strong contender. 
Known for Nashville's country music scene and good whiskey, Tennessee sits at a tax burden of 7.6%. The state ranks in the 10 states with the lowest cost of living with an index of 89. Though #29 in Best States Rankings, it holds the #1 spot when it comes to long-term fiscal stability.
Tennessee ranks well when it comes to affordability, but there's one area where its taxes are much higher than average: Beer. The state has the highest beer tax, at $1.29 per gallon, paired with an additional $0.15 tax on each case of alcoholic beverages in the state.
They say everything is bigger in Texas, and in this case, we're talking about their 1.6% property tax rate, ranking them #45 in the nation. The state's average sales tax, combined with local, sits at a slightly elevated 8.20%.  
On the other hand, the state has an 8.6% tax burden which is still lower than the national average. The state ranks #31 on the Best States Ranking with its business-friendly environment and strong economy. It is known for its lower housing costs, but do keep in mind the high property tax!
Washington wins the crown against the other eight income tax-free states in the Best States Rankings. The #1 best state overall is a nature lover's dream with 124 state parks, including Olympic National Park.
Washington does rank #1 when it comes to quality of living, but it also ranks #1 as the highest tax burden of the other eight states at 10.7%. In addition, the state's counties collect a higher property tax at an average of 0.92% per year, and it is one of the six states with one of the highest gas prices at $4.25 per gallon.
The expenses may outweigh the absence of state income tax, but that doesn't stop Washington from being a beloved and popular state.
Did you know Kanye West took his 3,888-acre ranch in Cody, Wyoming off the market? If you didn't, now you do. Wyoming is one of the most tax-friendly states with a tax burden of 7.5%, which is the second lowest in the country. It also has a low property tax rate of 0.51%.
At #35 on the Best State Rankings, Wyoming offers beautiful landscapes, including the gorgeous Yellowstone Nation Park, and it has a low population density. To those who are attracted to a more relaxed way of life, this income tax-free state is free of the big city bustle.